The best quality coatings system for your project
5 Key Factors of Energy Efficient Design In today's world, where environmental concerns and energy costs are top of mind, designing buildings that are not
Read More »
AirTight
Airtight Coating for Durham History Centre THE CHALLENGE Our client was restoring the Durham History Centre, located in the historic Grade II listed Mount Oswald
Read More »
corrosion
Epoxy Coating for Aviation Fuel Tank THE CHALLENGE The client's aviation fuel tanks required a new lining system as part of their scheduled maintenance. While
Read More »
Ultimate Coatings Ltd. has over 30 years' of experience in the coatings industry, in this time we have undertaken thousands of coatings projects in almost all applications. We have the experience and expertise to deliver your project to the highest standard.
Our expert teams are selected specifically for each client, and they are highly trained to use modern solutions for solving coating problems quickly and efficiently.
All of our operatives are fully trained to deliver expert service from start to finish. Our training includes Confined Space, ICATS & NACE.
We source our products from carefully selected and trusted suppliers to ensure our coatings systems are of the highest quality.
We work closely with our clients and utilise our vast technical expertise to select the most effective and durable coating system for their projects' performance requirements.
Our dedicated team is committed to gaining a thorough understanding of your project's specific requirements. Leveraging our extensive technical expertise and practical experience, we will provide expert guidance on the most appropriate coatings and products for your needs. Our comprehensive approach ensures compliance with all necessary health and safety regulations, encompassing access points, COSHH sheets, and comprehensive risk assessments.
We will coordinate the project to minimize any disruption to your business operations by scheduling the work at a convenient time.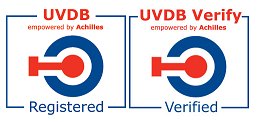 We are very happy with the success of this project with such tight time restrictions and we have already approved EonCoat for further upcoming coating projects throughout the mine!
UCL's product is brilliant and I have already recommended it to Heythrop Zoological Gardens and Cotswold Wildlife Park.
The results are remarkable, with a 100% customer satisfaction; we would highly recommend Ultimate Coatings products and services and look forward to working in conjunction with them again.